Quoqo NDA Engine
Generate compliant NDAs in just a couple of clicks
Accelerating businesses to light speed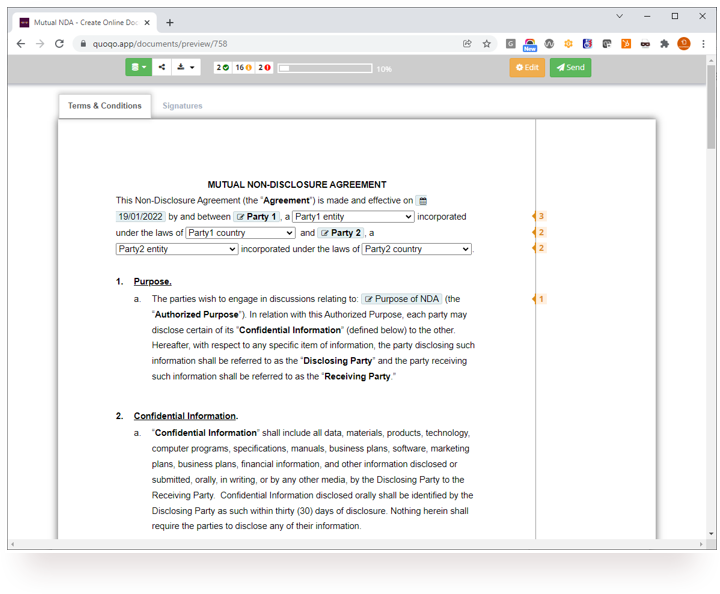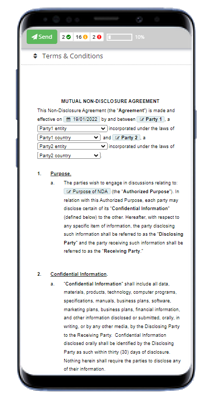 NDAs Are Important To Get Right
Quoqo has the answer.
NDA contracts are one of the most common items that employees or contractors sign before working with your company. It protects your business's trade secrets and other information meant only for you and your employees and not for the general public.
The problem with creating NDAs is that they are incredibly time-consuming to write, and when you need to make a change to them, hiring a lawyer to review and alter them can be very expensive.
Start now Avoid unnecessary delays
If an NDA isn't signed because there is a delay in getting it to a new employee or business partner, no confidential business information can be shared between the parties. Unfortunately, that also means that your business projects will get delayed, and you and your company will start losing out on potential profits.
How can you ensure that your NDAs are always ready to go with the exact wording and information you need every time?
Quick Access
Easily Manage
7/24h Support
Start now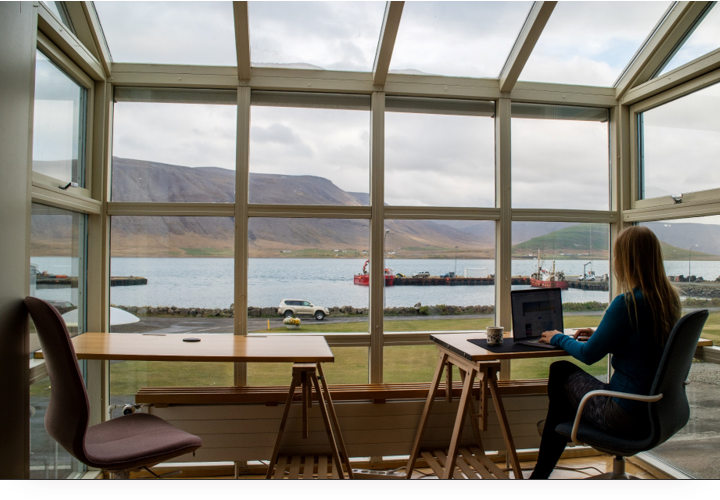 ONLINE NDAs
Why to choose Quoqo NDA
Testimonials
What our clients say about us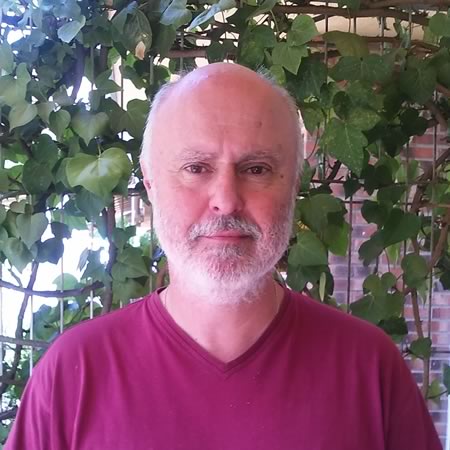 Very easy to use and finally we have all our NDAs properly organized and accesible 24/7. I would not hesitate to recommend it to anyone that still handles all this type of process manually.
Eduardo Ramos
CEO No-Nonsense Labs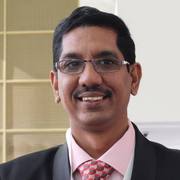 In my experience, Quoqo is the only solution that encompasses both Legal Compliance and Infrastructure, automating processes to allow you to focus on your core business. Quoqo is a highly recommended solution for enterprise-wide Contract Lifecycle Management.
Sameer Sortur
Founder & CEO, SquareCircle Global (Dubai, UAE)
PRICING PLAN
No Hidden Charges! Choose
your Plan.
FREQUENTLY ASKED QUESTION
I would like to know...
Contact Sales
Contact Sales
Plus Plan
Monthly
Annual
Multiple users
Hotline 24/7 support.
Unlimited NDAs.
NDA library.
Advanced workflows.
Custom NDAs.
API access.
You may use the contact form on this website to send us your questions and issues or directly email us to support [at] quoqo [dot] com.
Not at all! We provide you with a complete library of NDAs generated from our team of legal experts from where you can choose the one that best fits your needs: "1 side", "mutual", …
Just choose the NDA template that best fits your needs, provide the requested data and our NDA engine will take care of all the required signature/approval workflow.
Non-Disclosure Agreements (NDAs) are legal contracts that are used when one or more parties want to exchange confidential information. They are sometimes referred to as "confidentiality agreements", "confidential disclosure agreements", or "confidentiality contracts".
Companies require non-disclosure agreements to protect their proprietary information and trade secrets from leaking. NDAs are often used to protect business information before a business deal, exchanging confidential information or before a merger or acquisition.
NDAs are required anytime you are dealing with confidential information.
A one-sided NDA is an agreement that protects one party's interest by disclosing information to them, but restricts the other party from sharing any information.
A mutual non-disclosure agreement is an agreement between a limited number of participants, where each participant can be required to maintain the confidentiality of information they have access to, and where each participant is required to disclose information to the other participants.
Confidential information covered by a non-disclosure agreement (NDA) is any type of information that is considered sensitive or private. It is the obligation of the disclosing party to ensure that the receiving party will protect the disclosed information. This protection can be provided through the use of non-disclosure agreements. These agreements create contractual obligations about how the information is to be treated and distributed, and can also include other information such as the specific purpose of the disclosure, details about how the information is to be used, how long it will be kept, and what to do if it becomes public.
To avoid problems with a non-disclosure agreement, one should not share confidential information beyond what is permitted under the agreement.
Yes, it is possible to violate an NDA, but it depends on the content of the NDA. For example, if the NDA prohibits disclosing confidential information, the violation would be disclosing the confidential information. If the NDA prohibits disclosing confidential information about the company, the violation would be disclosing the information about the company.
An NDA is a contract that outlines the terms of an agreement between two or more parties that want to share information while not sharing the information with the public or third parties. It also protects any proprietary information.
The major reason someone would use an NDA is to protect intellectual property. If a company is sharing sensitive information about their new product with another company, the other company might misuse the information and create a similar product. By sharing the information under an NDA, the company ensures their ideas remain their own.
Companies will often sign an NDA with a company if they are in discussions about a potential acquisition. An NDA protects both companies from spreading confidential information about what the companies are discussing.
NDAs have several legal implications that you should be aware of. If someone breaks an NDA, the other party may be able to sue you for breach of contract, or for damages, or both.
NDA's can adversely affect small businesses by preventing them from competing in their field of business as they would be unable to compete with the other party in the event they are required to disclose proprietary information.
This depends on the type of NDA. For instance, if the NDA contains a clause that limits your ability to discuss the NDA, then you should consult an attorney.
Non-disclosure agreements protect the confidentiality of company ideas, processes and technologies, but are not intended to protect unpatented, trade secret, or copyrighted information.
There are three basic ways to keep an idea confidential:
1) Lock it up in your own mind and never share it.
2) Keep it in a physical or electronic form that is inaccessible to others.
3) Apply the NDA to a disclosure of the idea so that the person you are disclosing to has an obligation to keep it confidential.
Quoqo NDA enables you to generate NDAs, have these e-signed, stored securely and monitor your legal obligations, all through the power of the Quoqo platform.
The NDA templates that we create for you are tailored for your business, and are a quick and easy way to generate NDAs fast and signed securely.
Our NDAs are designed to be easy to read and use.
No problem, you may either upgrade your plan or buy an additional "NDA package" and they will be added to your account immediately.
Yes, if you require custom NDAs or bulk inbound NDA reviews we could propose you a custom plan.
You may directly cancel your account from your profile (go to billing) and only pending payments, if any, will be charged to your credit card.
You may, at any time, upgrade or downgrade your account from your profile section of the website.